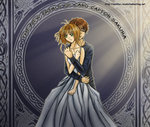 Welcome to the New Trials of Cardcaptor Sakura Wiki
Edit
Welcome to the New Trials of Cardcaptor Sakura database, a webpage dedicated to the tremendous work of Wish-Chan and her fanfiction: The New Trials of Cardcaptor Sakura and Friends.
******************WARNING***************** The contents of this wiki contain MAJOR spoilers. PROCEED AT YOUR OWN RISK!
The New Trials of Card Captor Sakura and Friends, or NT, follows the story of what happens after Sakura Kinomoto captures and transforms the Clow Cards into her very own Sakura/Star Cards and brings back history from time of even before Clow Reed. Follow the gang as they continue their journey into adolescence and into young adulthood.
Anyone can edit this webpage, so feel free to contribute. Enjoy!
Copyright Notice
Edit
The original concept, characters, and plot of the Cardcaptor Sakura manga and anime are created and owned by CLAMP. "New Trials of Cardcaptor Sakura" is a fan-based work and serves as a continuation of the original story. "New Trials of Cardcaptor Sakura" and its original characters (OC's) are solely owned by Wish-Chan. When posting any fanart, please give credit to the creator. In summary, all rights go to their respective owners!
Latest activity
Edit
Ad blocker interference detected!
Wikia is a free-to-use site that makes money from advertising. We have a modified experience for viewers using ad blockers

Wikia is not accessible if you've made further modifications. Remove the custom ad blocker rule(s) and the page will load as expected.